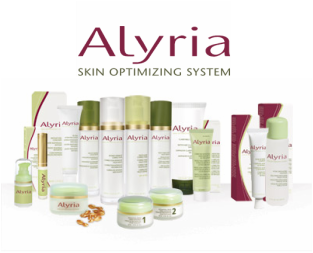 VISIBLE RESULTS
Alyria products:
Reduce wrinkles and fine lines

Restore skin's radiance

Improve elasticity

Even out skin texture

Clarify acne-prone skin

Enhance moisture retention

Fade away dark circles
Physicians are the best advisors when it comes to advanced skin care, which is why the Alyria line of prestige skin care products is available exclusively through select physicians.
Edmonton Skin Clinic retails the full line of Alyria products.
Talk to Dr. Mitha and Dr. Bhayat
about which Alyria® products are right for you.
SELECT INGREDIENTSGLYCOLIC ACID
Glycolic acid, is the ideal ingredient for patients with mottled, uneven skin tone, rough skin, mild hyperpigmentation and fine lines.
RETINOL
Retinol, which is vitamin A in its purest form, is well known for its wrinkle-fighting properties. It is also ideal for normal to oily skin, since it helps refine pores.
MATRIXYL™
Matrixyl™ is a pentapeptide that mimics the skin's natural regenerative process, stimulating collagen synthesis. This promotes tissue repair and effectively diminishes wrinkles.
VITAMIN K
Vitamin K prevents and erases bruising, including the "bruising" that appears as dark circles under the eyes.